Aluminum ATV Utility Trailer 5×8 Ramp UT6022-8AR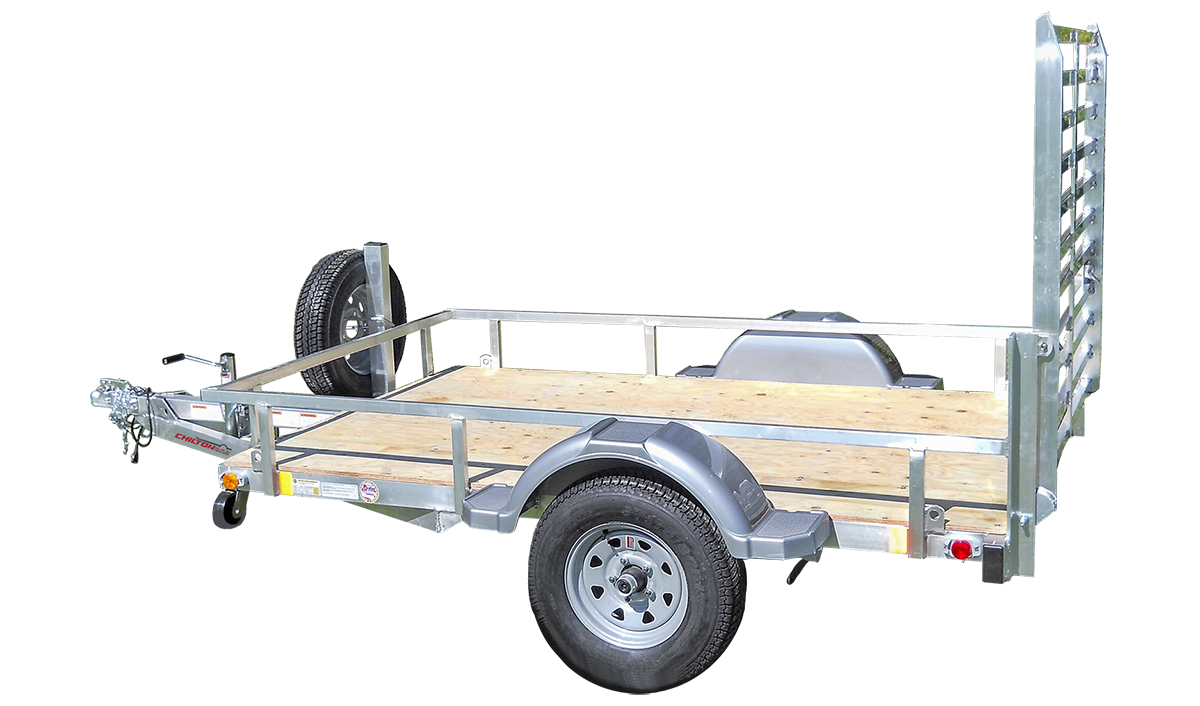 5x8 Aluminum ATV & Utility Trailer with Ramp
This 5×8 ft single axle ATV and utility trailer is a compact workhorse, with an aluminum load retaining rail to secure your cargo.  Both the standard straight rear ramp and optional bi-fold ramp fold down flat on the trailer deck when hauling empty. Standard features include:
Straight rear load ramp
10" aluminum load retaining rail
Marine-grade 5/8" pressure treated plywood deck
Adjustable swivel jack with wheel
Spring-loaded ramp locks for easy one-hand operation
Fully welded frame & ramp with reinforced A-frame tongue
2220# GVWR
5/4 treated wood plank deck in lieu of plywood
Bi-fold ramp upgrade
LED lighting upgrade
1100# winch package with 20-foot strap + steel mounting pedestal
Upgrade to radial tires load range D
Spare tire pedestal + bracket
Spare tire ST175/80D-13" load range C
Radial spare tire upgrade
Aluminum rims with radial tire upgrade
Aluminum rim with radial spare tire
All Chilton Trailers are guaranteed against defective workmanship and materials for a period of 1 year, beginning with delivery to the original user/purchaser (the first legal owner of a trailer other than an authorized Chilton dealer). Free extended coverage for an additional 1 year (total of 2 years) is available if you register your trailer within 30 days of purchase.