Steel Utility Trailer 6×10 High Side UT7230-10M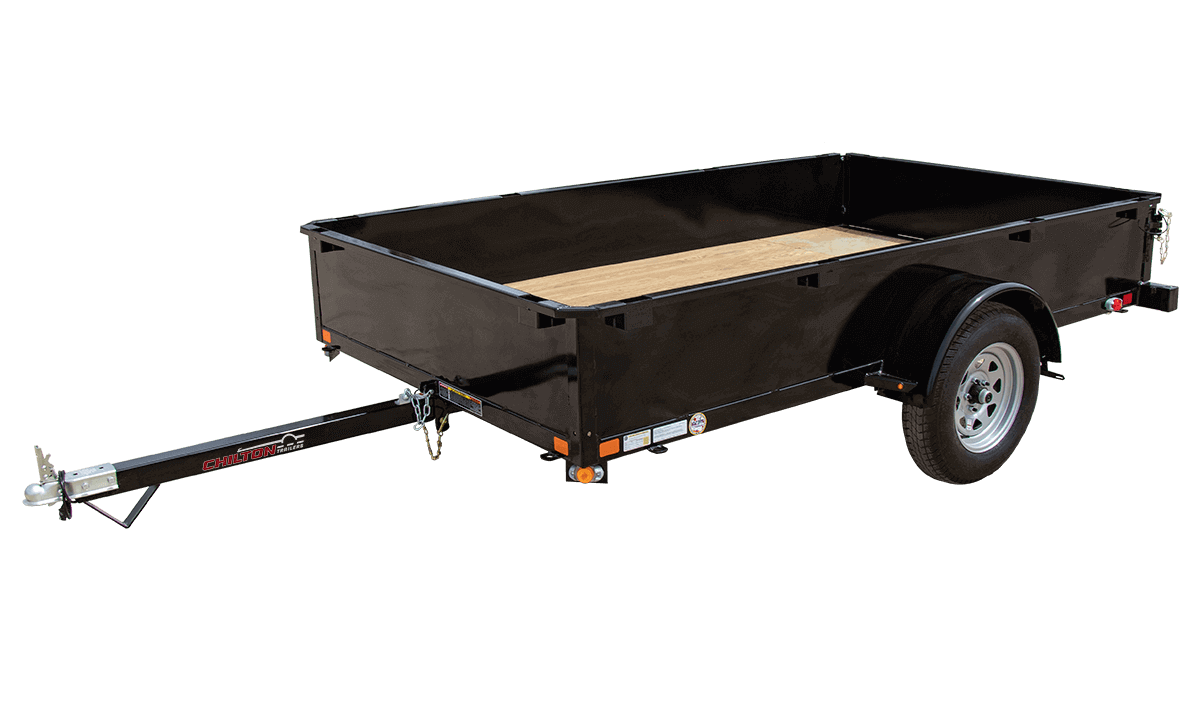 6x10 ft Steel ATV / Utility Trailer with Metal Sides & Tailgate, Tilt
This 6×10 ft single axle trailer is compact and versatile, with steel sides and tailgate to securely haul an ATV or other cargo, and tilt for easy load and unload. It's available with an optional 4 wood sides at 20" high or 3 wood sides at 11" high above the metal sides, which are easily removable. Every Chilton Trailer is built by hand with a fully welded frame and ramp for years of reliability. Standard features include:
14.75" high metal (3) sides + tailgate
5/8" marine-grade pressure treated plywood deck
Fully welded frame
2999# GVWR (without electric brakes)*
*3500# GVWR with optional 2-wheel electric brake
2-wheel electric brakes (changes GVWR to 3500#)
4 wood sides (20" high, 3-board treated lumber) OR
3 wood sides (11" high, 2-board treated lumber)
5/4" pressure treated deck boards in lieu of plywood
1200# heavy-duty adjustable swivel jack with wheel
LED lighting upgrade
Upgrade to radial tires load range C
Spare tire pedestal (aluminum) + bracket
Spare tire ST205/75D-15" load range C
Radial spare tire upgrade
Aluminum rims with radial tire upgrade
Aluminum rim with radial spare tire
All Chilton Trailers are guaranteed against defective workmanship and materials for a period of 1 year, beginning with delivery to the original user/purchaser (the first legal owner of a trailer other than an authorized Chilton dealer). Free extended coverage for an additional 1 year (total of 2 years) is available if you register your trailer within 30 days of purchase.